Mac Forbes – Single Vineyard Cool Climate Pinot Noir
Mac Forbes Wines in the Yarra Valley of Victoria, Australia, is well-regarded for producing exceptional Pinot Noir wines.
Mac Forbes is known for his emphasis on showcasing the distinct characteristics of individual vineyard sites. They believe that the terroir of each vineyard contributes unique qualities to the wines produced. By focusing on single vineyard expressions, Mac Forbes aims to capture the essence of each site, including the specific soil types, microclimates, and vine age, resulting in wines that reflect the vineyard's terroir.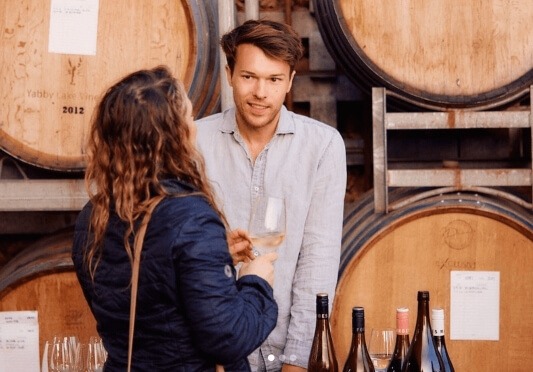 Every 1st Saturday of the month, Mac Forbes open the doors of the winery and run three small tours & tasting sessions between 11:30am & 4pm at 770 Healesville Koo Wee Rup Road Healesville. Occasionally they throw BBQs and in the peak of harvest, you're invited to taste fruit coming in, ferments, and pressed grapes straight from the press.
The Yarra Valley is recognised as a cool climate wine region, and this is particularly favorable for growing high-quality Pinot Noir grapes. Cool climates help the grapes ripen slowly, leading to increased flavor development, complexity, and the retention of natural acidity. Mac Forbes leverages the Yarra Valley's cool climate advantage to produce expressive and elegant Pinot Noir wines. Here's a picture of Mac and his dog 🙂
Mac Forbes Wines follows sustainable vineyard practices, including organic and biodynamic principles, to ensure the health of the vineyards and the surrounding environment. They strive for minimal intervention winemaking, allowing the grapes to speak for themselves. This approach allows the true character and purity of the Pinot Noir grapes to shine through in their wines.
Mac Forbes and his team pay meticulous attention to every aspect of winemaking, from vineyard management to the selection of barrels for aging. They focus on quality control and aim to craft wines that exhibit finesse, balance, and complexity. This attention to detail contributes to the high standard and consistency of their Pinot Noir wines.
Mac is known for his exploration and experimentation with different Pinot Noir clones and winemaking techniques. By working with diverse clones and employing various methods, such as whole bunch fermentation or different oak regimes, they are able to create a range of Pinot Noir styles, each offering its own unique expression and character.
It's important to note that personal taste preferences can vary when it comes to wine. While Mac Forbes Wines is highly regarded for their Pinot Noir, individual preferences and palates may differ. If you enjoy elegant, cool climate Pinot Noir wines that reflect the terroir of the Yarra Valley, Mac Forbes Wines is definitely worth exploring.